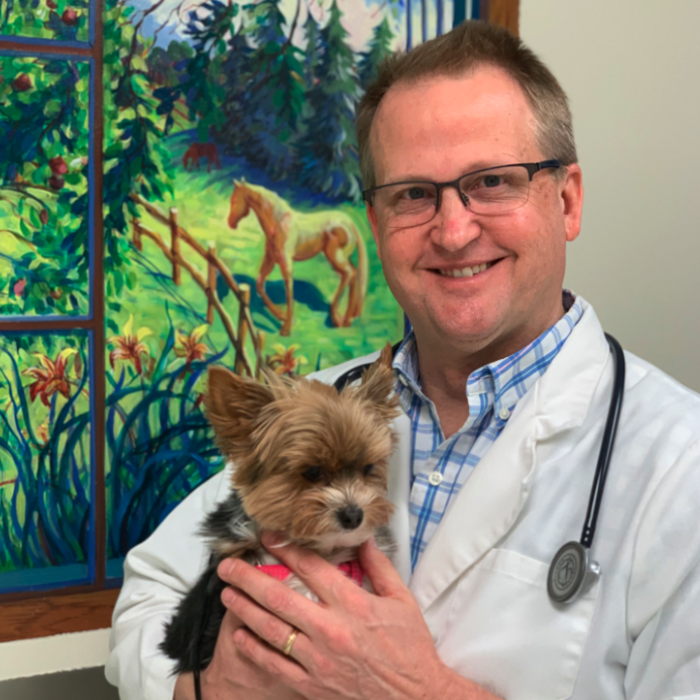 Dean Knudson
DVM
Dean Knudson decided to become a veterinarian after watching one of his horses being treated by the family vet. While growing up he raised cattle, sheep, swine, poultry, and horses, but it was the bond with his family's dogs and cats that led him to pursue a career in small animal medicine. After studying zoology and microbiology at North Dakota State University, Dean attended Iowa State University, receiving his veterinary degree in 1986.
Dean has a depth of experience in small animal medicine, including general practice, emergency, and critical care medicine, practice management, relief practice and consulting. He served as medical director of Pineview Animal Hospital in Sunrise, FL and Hillcrest Animal Hospital in Hudson. Currently licensed in Minnesota and Wisconsin, Dr. Knudson has provided short-term or consultation services to more than two dozen clinics in the Twin Cities metro and western Wisconsin area.
Dr. Knudson has a special interest in surgery and dental care for pets. He enjoys tackling difficult surgeries that have been referred from other veterinarians. With over 26 years experience, Dean has continued to refine his skills including dental procedures, laser surgery, orthopedic surgery and removal of tumors. His medical interests include dermatology and ophthalmology. An active volunteer and community leader, Dean has served as Mayor of Hudson and State Representative, as well as serving on many boards. Dean and his wife, Joy, have two children in college and live with their Yorkie, Teddi, and Tia, their cat.
Joy Schlichting
DVM
Joy Schlichting developed a love for animals growing up on the family farm in Illinois, where life revolved around 4-H projects and livestock shows. Always dedicated to helping people, Joy's first career was as a special education teacher. Joy taught students at the Iowa School for the Deaf as well as in California before her love for animals drew her back to school to pursue her degree in veterinary medicine. Since graduating from Iowa State University in 1986, Joy practiced in Florida before moving to Wisconsin. She has been in small animal practice in St. Croix County since 1989.
Joy has a special interest in animal behavior, nutrition counseling, and internal medicine. She enjoys meeting clients and helping strengthen the bond between families and their pets. Her hobbies include gardening, travel and riding her bike. With more than 26 years experience in veterinary practice, Joy still loves to meet new puppies and kittens, helping new pet owners get off to a great start with their new family member. As a former teacher, Dr. Joy looks at her role as family vet to be focused on educating families and pet owners about how to keep their pets healthy and happy.
Dr. Schlichting joined New Richmond Veterinary Clinic in 2010 when the practice founder, Dr. Austin was ready to transition into retirement. As practice owner and medical director since 2011, Joy has brought her passion for quality veterinary care and her love for animals to our practice. She lives in Hudson with her husband, Dean, and has two children, a precocious Yorkshire Terrier and a cat that enjoys naps in the sun.